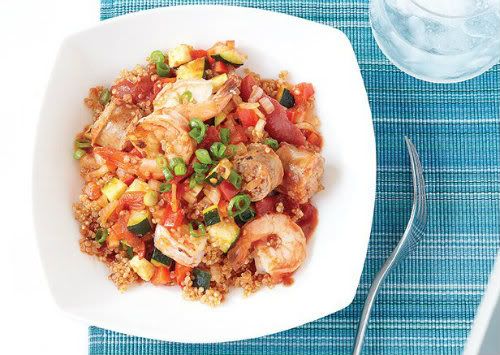 This dish is no where near vegan, but I still consider it pretty clean eating. I discovered this recipe on  Oxygen Women's Fitness. It was a perfect post workout recovery meal after today's 6 mile trail run and to say it was delicious is an understatement.  I think I'll try nixing the shrimp and swapping the chicken sausage for a vegetarian sausage next time. I'm pretty sure it will be just as satisfying. Recipe after the jump.
Quinoa Jambalaya
Ready in 30 minutes • Makes 2 servings
Ingredients:
1 tbsp canola oil
1/2 onion, chopped
1 zucchini, chopped
1 red bell pepper, chopped
1 garlic clove, minced
1 low-sodium chicken sausage, sliced into 6 rounds (I used Trader Joe's Smoked Andouille All Natural Chicken Sausage)
1/4 cup dry quinoa
1/2 cup low-sodium chicken or vegetable broth
1 can fire-roasted tomatoes
1/4 lb shrimp, peeled and deveined
Sea salt and pepper, to taste
1 green onion, sliced thinly
Instructions:
Heat oil in a large nonstick skillet over medium-high heat. Sauté onion, zucchini, bell pepper, garlic and sausage slices for 5 minutes. Add the quinoa and toss to coat, about 2 minutes.
Add broth and tomatoes to skillet and bring to a boil. Then reduce heat and simmer, covered, for 10 minutes.
Add the shrimp and cover the pan. Cook an additional 5 to 10 minutes, or until the shrimp are opaque and cooked through.
Add salt and pepper to taste. Remove from heat and place onto plates. Top with green onions. Serve.
Nutrients per serving:
Calories: 400, Total Fats: 15 g, Saturated Fat: 3 g, Trans Fat: 0 g, Cholesterol: 125 mg, Sodium: 500 mg, Total Carbohydrates: 39 g, Dietary Fiber: 6 g, Sugars: 9 g, Protein: 24 g, Iron: 4 mg