For Her
For Him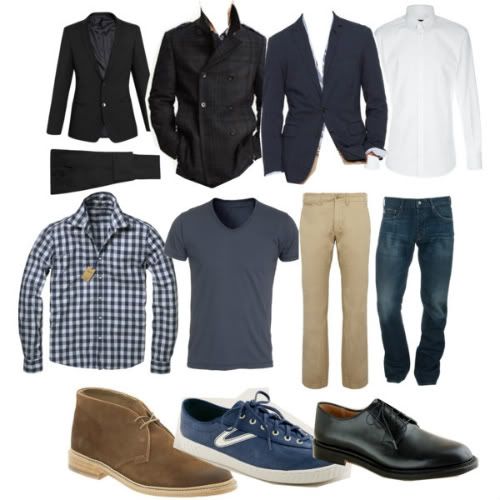 I know it's cliche, but there really are a few important wardrobe essentials every man and woman should have in their closet. With these essentials you're basically covered for any occasion and now have a foundation to build an entire wardrobe around. These are timeless pieces that won't go out of style and can be easily mixed and matched with whatever else you own. More after the break…
Once you've got the essentials down, you can then start incorporating color, a few of the current trends that work for you and additional items that add variety and personality to your wardrobe.
Trench coat: Classy, sophisticated and universally figure flattering because of it's cinched-in-at-the-waist silhouette.
Black Blazer: A go to for polishing off almost any outfit and can be worn for almost any occasion; work, weekend and evening.
Cardigan: I prefer gray , I've found that it oddly has the same effect of polishing off an outfit as the black blazer but is a lighter weight more casual option.
Black Dress: A go to that can easily be transformed from day to evening.
Classic White Button Down:
It goes with everything and can be dressed down with a pair of jeans or paired under a blazer with a pair of trousers for the office.
Black trousers:
They can be worn with a tailored top for work or paired with a sexy top and heels for evening.
Jeans: Everyone needs a pair of good fitting figure flattering jeans.
Flats:
An easy go to casual shoe.

Staple Necklace: A statement accessory can make an entire outfit. A good versatile necklace is a great way to go.
Bag: Go for a neutral color for versatility and choose one that is practical for your needs and reflects your personal style.
Black Heels: In a simple style for versatility. When in doubt, a black heel will usually work.
Suit:
Every man needs to own a suit even if you only need it once or twice a year, having one is a must. I recommend sticking to black, navy or grey and the blazer can also be worn with jeans, cords or khakis for a more casual look. Fit is KEY so make sure you spend the few extra bucks to have it tailored so it fits perfectly.
Dependable Jacket/Coat
: A wool coat in a basic color will go with casual and dressy clothes.
Blazer/Sports Coat:
Go with a solid color like navy, black or grey to keep it timeless and versatile. It can be paired with matching pants for the office or with jeans or khaki pants for other occasions. It's also great for bringing a borderline shabby outfit up a notch or two.
Classic White Shirt:
Why? Because it goes with everything from a suit to jeans. Probably the most versatile piece here.
Off Duty Shirt:
Something l
ike a plaid button down for those times you don't need a dress shirt but want something more pulled together then a t-shirt.
T-Shirt: No explanation needed just make sure you have at least a couple in white and other go to colors.
Khaki Pants: All around versatile pants that can be dressed up or down.
Jeans: Again, it's about versatility because jeans look good with nearly everything, from a blazer and
dress shoes to a tee and sneakers.
Suede Boots:
Great for casual and business casual looks.
Canvas Sneaker:
An easy go to casual shoe.
Black Dress Shoes:
For when it's time to dress up.